FergWorld: Airplanes : Pitts S-2C N312PS

---
---

---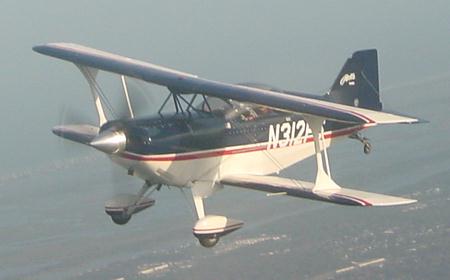 "There are Pitts Specials and there are other airplanes and the two shouldn't be confused." -- Budd Davisson, Pitts 'guru,' 1999
---
Hello, and thanks for dropping in. Welcome to my electronic shrine for N312PS, a Pitts S-2C with 'my name written all over it.' Thoughts on this page? Please email ryan@fergworld.com.
The Pitts S-2C is the latest generation Pitts Special, an Unlimited-class aerobatic airplane certified for +6G/-5G (and frankly, easily capable of more.) Specs can be found at the bottom of the page.
I purchased this aircraft in July of 2000. This page chronicles some of my adventures and learning progress with the Pitts Special.
Note: The majority of the pictures are down below the progress updates; scroll down to see them.
Progress updates:
---
Going, going... gone 03/21/2002 - Sold. Sold! Arrrrrgh. Due to extensive travel and other commitments, my airplane was sold. My heart aches. It was sure fun while it lasted. I'd also like to point out to my detractors that this airplane was never bent or broken while I owned it! So it goes to show you that anyone can fly one of these things. I'll be back to akro. What a rush. When I do return, it will probably be in an Extra.
---
Akro coach, training 07/24/2001 - It's been much too long since I've updated this page! I am now flying with Patti Johnson, a former member of the U.S. National Aerobatics team. She's a great instructor and we're making good progress towards my first competition. I can't wait!
---
In-flight pictures! 12/29/2000 - Some excellent in-flight pictures of me piloting the Pitts, taken by my wife riding shotgun in a C-172SP. Purty!
---
200mph low approach!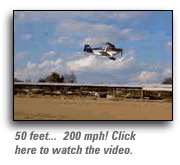 12/20/2000 - Here is a video (in .mpg format) that my wife took of a low approach I made at Bob White field (X61) in Central Florida. 200mph at just a few feet above the ground is quite a rush! The video is about 470k, which will take just about a minute or so over a regular dialup modem -- worth the wait. Click here to watch.
---
Pictures from AirFair at Orlando Executive Airport 11/16/2000 - I was debating whether or not to include this on the Pitts page, but I decided it was more Pitts related than "general aviation." Click here to see a page of thumbnails from the Orlando AirFair. I've got some really crappy pics of airplanes in flight (the digital camera, sans viewfinder, is NOT ideal for these kind of pics) but the pics of planes on the ground came out pretty well. Larry Tague and Keith Leicktig both flew in this show.
---
11/15/2000 - Back for another update! I have approximately 85 tailwheel hours now, and most of them are in the Pitts. (Total time is nearing 300 hours -- talk about a lot of flying in one year!) I'm now regularly flying the Pitts at +6G/-3G. Let me tell you, negative G is very uncomfortable, and I'm still only capable of flying at -3 in small doses.
Here are the maneuvers I'm flying... in addition to the IAC Sportsman Known sequence. (Hope to fly that sequence soon at an IAC competition.)
Loops
Aileron rolls
Slow rolls

The 2000 IAC Sportsman sequence
Barrel rolls
Immelmans
Hammerheads
1/2 Cuban Eight
Reverse 1/2 Cuban Eight
Vertical rolls
Snap rolls
Point rolls
Split-S
Upright spins
Inverted spins
Pull-pull humpty-bumps
Pull-push humpty-bumps
Knife-edge flight
Combinations of the above
I am flying with Keith Leicktig of Keith Aviation, who's been brave and kind enough to fly in the front seat while giving his expert guidance. Having a BLAST! Until the next update -- see ya! Don't forget to drop me a line at ryan@fergworld.com.
---
09/05/2000 - Woohoo! After about 200 or so landings in the Pitts I am starting to be a little less apprehensive when the plane is on the ground, or in the process of coming close to it (landing) or leaving it (taking off.) Ground handling is definitely the biggest challenge, because in the air the plane is actually quite easy to fly.
I've been doing very light akro (loops, rolls), and I'm about ready to start real aerobatic training very soon. I'm still just having a ball flying around and enjoying the airplane.
Took my first passenger up in the plane -- my friend Eric. We had a great time cavorting in the sunny Florida skies.
Please note the new pics below, some of which were taken in flight, while others were taken at Bob White (X61), just northeast of Lake Apopka in Central Florida. This is where I hope to hangar the Pitts -- unfortunately, I'm on the waiting list.
---
07/25/2000 - After about 3 hours in a Citabria, 4 in a Decathlon, and 12 in my Pitts, I'm signed off and legal to fly solo! I did about 10 T&Gs and some light akro on my own before returning the ramp, exhilarated. I'm going to get another dozen or so hours solo before taking any passengers. After that... email me and let's fly!
---
"Beware: Your first flight in a Pitts is going to ruin you for any other airplane."
-- Budd Davisson
---
Pics from Sept. 03, 2000 flight
Pics from May 25, 2000 demo flight
Pics taken by Larry
---
PERFORMANCE DATA
Aerobatic Flight Load Limits
+6G/-5G
Takeoff Distance Ground Roll
554'
Takeoff Distance Over 50' Obstacle
860'
Max Demonstrated Crosswing Component
17 kt
Rate of Climb, Sea Level (minimum wt)
2,900 fpm
Maximum Level Speed, Sea Level
169 kt
Cruise Speed/Endurance w/30 min rsv std fuel
150 KTAS/1.6 hr
Fuel Consumption @75% Power
84 pph/14 gph
Best Economy
6,000 f
Landing Distance over 50' Obstacle
1,200'
Landing Distance, Ground Roll
750'
---
N312PS EQUIPMENT:
Power Plant

Textron Lycoming AEIO-540D4A5 Aerobatic 260 HP Engine w/Bendix servo fuel injection system
Hartzell Aerobatic 3 Blade Constant Speed Prop

Avionics

Becker 4201 Comm. w/PTT Intercom and Hot Mike Switch
King KT76C w/Mode "C" Blind Encoder
PM 1000II Voice Activated Intercom

Electrical

Complete 14 Volt Electrical System
Lightweight Sky-teck Starter
RG25 Battery
ELT
Push to Talk Switch Throttle Mounted
Hour Meter, Hobbs

Fuel System

Full Inverted Fuel and Oil System
5 Gal Aux Upper Wing Tang
Digital Fuel Flow and Fuel Gauge

Interior

Full Two Place Canopy
Fresh Air Vents
Front Cockpit Flight and Power Indication Instruments
5 point Harnesses Front Seat
Hooker Harness Rear Seat
Shoulder Pads
Map Case

Exterior

Wheel Fairings
Steerable Full Swiveling Tail Wheel
Three Color High Gloss Paint In Urethane Finish